Joomla Website Specialists | Web Designers and Marketing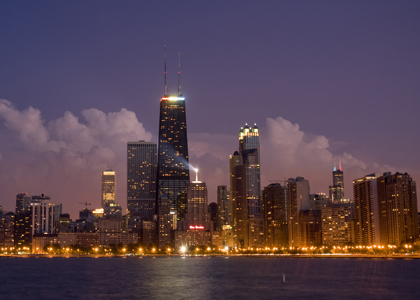 It's huge! The City of Chicago covers an area of 60,000 hectares (237.2823 square miles) and sits 176 meters (578 feet) above sea level on the southwestern shore of Lake Michigan. At 190 km wide and 495 km long, its the 5th largest body of fresh water in the world. The city is traversed by the Chicago and Calumet rivers. Chicago's extensive parklands, including 3,000 hectares (18.641 square miles) of city parks attract an estimated 86 million visitors annually.
It's a cool place with lots of business potential! As a multicultural city that thrives on the harmony and diversity of its neighborhoods, Chicago today embodies the values of America's heartland-integrity, hard work and community and reflects the ideals in the social fabric of its 77 distinct neighborhoods. The Chicagoland Chamber of Commerce has been committed to supporting small business throughout the region for over 100 years. Small businesses like ours can capitalize on many programs, networking events and business savings on essential small business products and services. In a region like Chicagoland, it's easy for us to harness the networking power and get the leads necessary to be successful!
It's progressive. Chicago is a leader in reforming public schools, enhancing public safety and security initiatives, providing affordable housing in attractive and economically sound communities, ensuring accessibility for all and fostering, social, economic and environmental sustainability.
Things to Do in Chicago
We love to explore. In fact, when we decide to build a nest in a particular region, we embark on bicycle explorations immediately. Here's some of the best of what we found in great Chicagoland:
Shedd Aquarium
With more than 2 million guests every year, John G. Shedd Aquarium is Chicago's most visited cultural attraction. And it's easy to see why: Curious explorers can roam through more than 80 habitats, acquainting themselves with some 1,500 species. The recently "reimagined" Abbott Oceanarium brings beluga whales, Pacific white-sided dolphins, Alaska sea otters and California sea lions up close, while the 90,000-gallon (340,687 liters) Caribbean Reef installation offers a 360-degree view of the sea life found in warm waters.
Art Institute of Chicago
Well-known treasures beckon inside the Art Institute of Chicago. This magnificent Beaux-Arts building — with two stone lions guarding its Michigan Avenue entrance — is home to works of art that span 5,000 years of human history, as well as the globe. The recently unveiled Modern Wing, which opened in 2009, houses contemporary art and modern European paintings and sculpture in a breathtaking setting. This is one of the places to visit in Chicago that you just have to take the time to see!
Adler Planetarium
Adler Planetarium, which appears ready to launch itself into Lake Michigan from its lakeside perch, brings the universe to its visitors. From the Galaxy Wall — the largest and most complete view of our Milky Way — to an exhibition where intrepid explorers can occupy a life-size model of a Mars rover, the Adler encourages us to break the bonds of earth and look to the heavens.
The Field Museum
Every trip to Chicago should include a date with Sue. Holding court in The Field Museum's grand Stanley Field Hall, the remarkable Sue is the world's largest, most complete, and best-preserved Tyrannosaurus rex. Beyond The Field's extensive rock and fossil collections, visitors can journey through 4 billion years of life on Earth in the Evolving Planet exhibit and marvel over precious stones — from their rough beginnings to sparkling jewelry — in the Grainger Hall of Gems.
Skydeck Chicago
The tallest building in the Western Hemisphere beckons with its eye-popping views of Chicago and beyond. Located atop the Willis Tower (formerly the Sears Tower), Skydeck Chicago attracts nearly 1.3 million visitors each year to its 103rd floor observation deck, which rises 1,353 feet (412.4 meters) above street level. On a clear day, you can spot many of Chicago's landmarks and scan the horizon to Michigan, Wisconsin, Indiana and Illinois. The brave of heart can step out onto The Ledge, a glass-enclosed balcony, for a view unlike any other.
John Hancock Observatory
Located in the heart of the Windy City's tourist district, the John Hancock Observatory — with its one-of-a-kind open-air Skywalk — is open until 11 p.m. daily. The fastest elevators in North America zoom to the 94th floor — 1,000 feet (305 meters) up — in only 40 seconds. The real fun is spotting Chicago landmarks, such as Wrigley Field, Navy Pier, and glamorous marinas. Guests enjoy a multimedia Sky Tour and can contemplate Chicago's history on the 80-foot (24 meters) history wall. CityPASS holders can take in the view while sipping a complimentary coffee from the on-site café.
Museum of Science and Industry
The largest science center in the Western Hemisphere, the Museum of Science and Industry was the first museum in North America to offer visitors the chance to touch and interact with exhibits. That tradition continues to this day with exhibits that encourage people to do more than spectate: you can make a giant heart beat in time to your own, open a Chicago River drawbridge for a model train, and practice your moves on the basketball court with the help of a virtual instructor.
Navy Pier
Encompassing more than 50 acres (20 hectares) of prime Chicago lakefront territory, Navy Pier is truly a city within the city. With shopping, restaurants, parks and gardens, museums, stages and attractions galore, this Chicago landmark attracts millions every year. Fireworks light up the Chicago skyline twice a week during the summer months, and the 150-foot (45.7 meters) Ferris wheel operates year-round, weather permitting. It's no wonder that Navy Pier is often considered one of the top things to do in Chicago.
Millennium Park
It may be one of Chicago's newest places to visit, but Millennium Park has quickly become a destination of choice for travelers and locals alike. With hundreds of free concerts and performances offered throughout the year at the dramatic Jay Pritzker Pavilion; an immense, walk-up-and-touch sculpture known affectionately as "The Bean"; and a 5-acre (2.2 hectares) garden to explore, Millennium Park lives up to the Chicago's official Latin motto: Urbs in Horto — City in a Garden.
The Magnificent Mile
On Michigan Avenue, starting at the Chicago River and heading north for, yes, 1 mile (1.6 kilometers) to Oak Street, lies a district of architecture, shopping, dining and business that has few peers. Aptly named, the Magnificent Mile is a mecca for tourists and business people, and bolsters Chicago's claim as one of the great cities on the world stage.
Exciting Chicagoland!
The great city of Chicago offers something for everyone - Chicago things to do include everything from world-class shopping, fine art galleries, architecture, museums and theatre to unique neighborhoods rich in distinctive cultural heritage. All along the lakefront, from Lakeview to Oak Street Beach to the Gold Coast to Soldier Field, Chicago is bustling with things for you to do. The Chicagoland suburbs offer many attractions, such as riverboat casinos, amusement parks, sports & entertainment venues. You might even want to attend a yoga class while in town.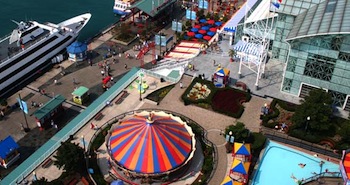 What would you like to do while visiting Chicago? Spend a day at Navy Pier and take a lakefront oat tour? No visit to Chicago is complete without a Chicago River Architecture Cruise or Lake Michigan Skyline Tour like those offered by Shoreline Sightseeing.
How about Shop the Magnificent Mile? Visit Museum Campus that includes the Field Museum, Shedd Aquarium and the Adler Planetarium for an experience that is both fun and educational?

Don't forget that Chicago is known for its terrific dining experiences. At some point during your trip, you'll want to try a Chicago hotdog, beef sandwich or deep-dish pizza! To personally experience our local cuisine, try Tastebud Food Tours or the Chicago Food Planet Food Tour.

If you are looking for something for the children while in Chicago, see our Things-to-do for Kids page. It includes activities both in and around the city and Chicago things to do with your kids.
For more information or discounts on things to do in Chicago or what to see in Chicago, check out: