Poor marketers use common clichés and messy, meaningless or even misleading statements in promoting their brands. What too many don't understand is that the most memorable brands present themselves in an honest and marketable way.
When asked to make a case for why you should pick their products or services, too many fall back on the most trite, overused and meaningless creative, copy and tag lines, which no one believes.
This is most likely because they can't or just failed to develop a compelling message that would differentiate them from their competitors. Differentiation is almost certainly the most important element in effective marketing. Without it, you're inconsequential.
Acclaimed marketing guru Jack Trout titled his new book "Differentiate or Die."
I stood between two billboards in my hometown recently. These faced each other, on two sides on a lot, which I found ironic. The irony being, as you can see, they're both competing for the same audience.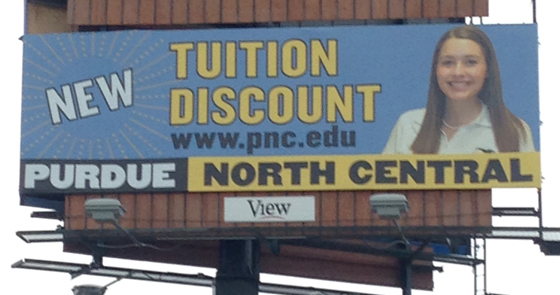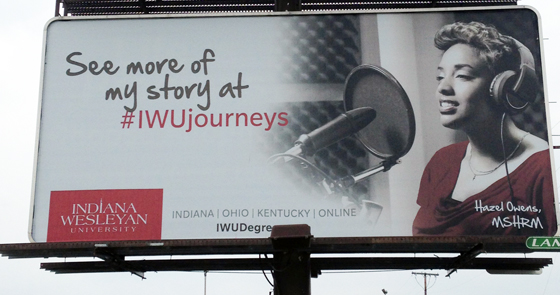 Purdue University dropped the ball here. "New Tuition Discount" means what exactly? And who is that student? Why is she there? Did she save money? When you go to the URL on the billboard, there's nothing there about tuition or discounts, which is a dead end and frustrating for the user.
The billboard message suggests to me that Purdue is now on sale. Perhaps they're overstocked (with professors?) or business is slow so they're offering discounts to compete better in the market. The message is sloppy, especially for such a prestigious university. Ever see Mercedes promote themselves as a discount auto maker?
I turned 180 degrees (literally and figuratively) and saw Indiana Wesleyan University. Wow, what a compelling and honest message! I did use the hash tag on Pinterest and found a success story about a woman who returned to school to follow a different career path. There were many others as well.
The competing universities saturated the area with the billboards. Purdue replicated the exact layout whereas Wesleyan offered various other personal stories.
Purdue's marketing campaign is more anti-marketing. It degrades its brand by promoting a meaningless and misleading message. "New Tuition Discount?" Prove it. And why would a potential university student want to go to a bargain brand school anyway?
Other sources:
-- http://blog.priceintelligently.com/blog/bid/170106/How-Discounting-is-Killing-Your-Pricing-Strategy

"...sticker prices matter for perceptions. To prospective students, a high sticker price conveys a sense of quality; at the same time, students feel wanted and special when they are offered an institutional grant to a college or university with a high sticker price."
"Starting in October 2011, institutions [were] required to publish a Net Price Calculator on their Web sites for prospective students to determine the true cost of attendance at the institution."
-- http://agb.org/knowledge-center/briefs/tuition-discounting

"For the undergraduate (Marion residential campus) calculator, click here. Adult and online students should click here to access the calculator."

-- http://www.indwes.edu/about/student-consumer-information/general-institutional-information
"A brand is a promise, as perceived by prospective purchasers. The most powerful value contribution of a strong brand is the ability to demand and defend higher prices than competitors. Since powerful brands produce higher margins, discounting can be a sign of weakness: brand demotions."
"Research has shown that deep discounts do cause the consumer to believe that something is wrong. Frequent discounting serves to lower the value of the brand because of an almost subconscious reaction by the consumer who believes that quality also has been lowered."
"For an established brand, discounting can have an adverse affect on value."
-- http://www.killianbranding.com/whitepaper/discounting/
" ... discounting your [quality]goods, if we really examine it, frequently comes from an employee's poor self-esteem. Deep inside they believe the watch, the fur, the yacht, the plane, the [college education], the cruise, isn't worth it."
-- http://www.retaildoc.com/blog/sales-tip-selling-luxury-brands-without-a-discount
" --- deep discounts devalue a product or service, limiting companies' ability to raise prices as the economy improves. ... it's hard to restore a price --- when demand picks back up."
--http://hbr.org/2011/01/ditch-the-discounts/ar/1
"Blindly discounting is one of the worst things you can do, because you're conditioning your customer into de-valuing your product, and you're literally throwing money away by putting it back on the table from the initial and future sales with that customer."
-- http://blog.priceintelligently.com/blog/bid/170106/How-Discounting-is-Killing-Your-Pricing-Strategy
Disclosure: I worked for Purdue University North Central as a consultant until 2012. Also, three of my kids attended Purdue. I have no affiliation with Indiana Wesleyan University.